Hello, today we will learn the basic navigation that will allow us to move and pan our 3D view.
We need a sample file that will allow us to test navigation tools.  Please download a sample from this link mk-lotus (this is a compressed file, double-click on it and then double click on the SketchUp file). This file is from the 3D Warehouse, we will learn more about 3D Warehouse in another tutorial.
By opening SketchUp file you should have view as below: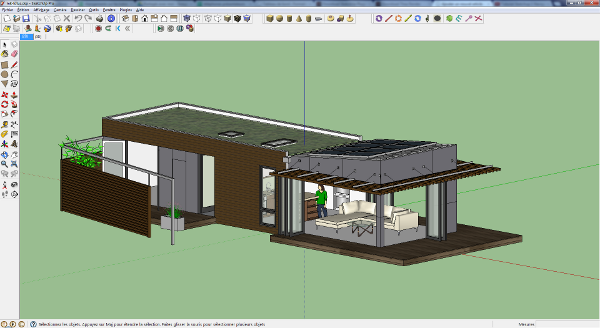 Don't worry if the interfaces are not exact same. Load the toolbars from the menu if needed.
We will see the use of these tools:

You can click these buttons to use these tools.

The first tool we will use is the 'zoom'. This tool is quite intuitive, just by using the scroll wheel on mouse we can activate this tool.  What may seem to be confusing is that the zoom tool where the mouse pointer is. If the mouse pointer is on the corner of the house you zoom on this corner, the zoom does not takes place in the center of your view as some 3D software tend to do.  If you want to refocus your view with respect to the mouse pointer, just double click on the wheel.  I encourage you to test this in order to understand its operation.

 Now we will see how to turn around our object. For this we will use the "orbit" tool. For this is simple, click on your wheel and hold it.  By moving the mouse in this this way, you will see that you will turn around your object.

To move either 3D but only 2 dimensions, hold down your "shift" button on keyboard, click on your wheel and move the mouse. This tool is called as "pan" in SketchUp. Combining "pan" and "orbit" you can navigate easily in your 3D view.

 Another useful tool is the "zoom extents", it allows for optimum zoom for your 3D view, ie zoom in (or out) to see your entire object. To use the tool, you can click on the button representing a magnifying glass with 3 blue arrows. Or, if your like me fond of keyboard shortcut, you can just "shift + z" on your keyboard (careful not to press a "ctrl + z" which will result as 'undo the last changes made'). If you want to zoom-in on a specific object, you can right-click on the object, and from the context menu that appears click on 'zoom selection'.
I invite you to try these on 2D person  you see on the SketchUp.  Then in order to see the tool, click on it (or "shift + z") and you will experience that you make a 'zoom out' to see the house in full extent.

We'll one more tool ! it is "Zoom Previous".  As you may have already guessed, it is gives us previous views. We can go over last 3 to 5 views.I encourage you to test these tools to become familiar with navigation in SketchUp.
Click to the next tutorial when ready !