SketchUp 2018 arrived !!!
Glad to inform the arrival of SketchUp 2018, with much awaited updates. Some of the important enhancements are listed below:

Advanced Attributes
SketchUp 2018 allows users to tag / embed useful information into SketchUp model while creating and managing the components. Define Price, Size, URL while creating the components. The entity dialog enables the user to define Owner and Status attributes for each component instance.
Aggregation in Generate Report
The generate report tool enables user to develop variety of outputs, group required level of Data, group using a tag and also use customised rules to produce the schedules, pricing details or any estimates.
Named Section Planes
Yes, SketchUp 2018 has named section planes. It is easier to find, organise and edit section planes. Create new section plane, choose a name and short symbol that will appear in the modelling window. More interestingly, we can find sections in Outliner.
Filled, Styled Section Cuts
Sections Cuts to have filled colors, to access Styles > Edit > Modelling. Set the desired color for fill and section line. The tool would help to troubleshoot the geometrical problems while generating section fill.
Measure Tool
Measure tool has more capability, it can provide the information just by pointing to an element.
STL Import/Export
With SU 2018, STL import / export has  native support.
LayOut
It's getting easier to generate 2D working drawings using SketchUp Layout, the drawing features has been enhanced to accommodate any drafting requirements. Some of the interesting features are listed below:
Scaled Vector Drawing
Draw 2D geometry at required scale, generate block details. Re-set scale if necessary, Dimensions and label tools  supported by the LayOut.
Group Edit
Editing grouped entities in LayOut works same as SketchUp, Layout users can also control "rest of document" visibility when editing within a group.
Advanced Attribute Labels
Like all of the information in SU model, SketchUp"s new advanced attributes are available when we draw LayOut labels.
DWG Import
Yes, LayOut enables the user to import DWG / DXF as Paper Space / Model Space making it easier for one to re-use the existing drawings. You can scale / redefine the geometry using enhanced LayOut editing tools.
Other Notable LayOut Improvements
Editing of Lines has become simpler, can move a point or line by using measurement or values. Can delete a point and LayOut can reconfigure the shape or add a vertex. It is easier to define fillet or chamfer for the line work. Use Offset on any entity and can apply array on them.
Published on November 23, 2017 by adebeo team.
SketchUp & V-Ray Day Middle East 2017
On 22nd November, Trimble and Chaos Group along with Medialogic would join forces to bring to you SketchUp & V-Ray Day Middle East 2017 in Dubai.
A must visit event for creative professionals from the AECI, Design and Entertainment Industry, it will feature presentations by Chaos Group and Trimble CG Specialists, free extended master classes on advanced design and visualisation workflows, as well as special guest presentations.
The event will take place at the Starlight Ballroom, Sheraton Grand Hotel, Dubai
Adebeo with Chaos Group & SketchUp @ Mumbai
ARK Infosolutions in partnership with Chaos Group hosted the last day of V-Ray Days on 10 November at The Classique Club, Mumbai from 10:30 am to 7 pm. With a mix of free extended masterclasses, latest and future releases overview, guest sessions and more, V-Ray VFX & Animation Day Mumbai concluded the drive.
The first two sessions of the day were Render Makes The Difference and a masterclass on Super-fast rendering workflows with V-Ray RT GPU. Post lunch, DSK International Digital & Transport Design department head Rattan Gangadhar and digital design trainer Rohan Shedjale spoke about bringing life to industrial design. "We use V-ray daily in our pipeline. It is a preferred software. We are working very closely with ARK too. They have been helping and supporting us always," said Gangadhar.
"A customer in our session complained about not getting real output with consumer cards to finish the project trouble free," said PNY Technologies technical consultant (MEA & India) Senthilraj Balakrishnan. "With this forum, we get an opportunity to interact with the customer and provide them with correct solutions."
PNY is a global technology leader within the OEM, consumer and channel electronics markets. The PNY team is comprised of industry experts who provide knowledge to deliver OEM qualification, meet the requirements of the most demanding enterprise application environments and offer both pre and post qualification engineering support. "We get a chance to make people aware because when you wank into the stories and ask for a graphic card, you are provided with a consumer card. But when it comes to professional applications, you should use the right tools," explained Balakrishnan.
After a quick break, Chaos Group CG specialist Kalina Panteleeva took a masterclass on The Secrets of 3.6 in which she spoke about how not to be afraid of rendering characters and environments that have millions of polygons. She explained the newest features of the version that help save time and make the process efficient.
"Many people come to us for technical issues, and of course we help with that but at the end of the day, it is all online. If you know what to search, you can find it," Panteleeva told AnimationXpress. "In this event, what I personally want to achieve is giving those people the perspective that it's not only about deadline or technical difficulties, it's about making a difference, making something of your own, expressing yourself and the project you believe in and think about the way it feels." They thus help students and artists not only with the technicalities but also to think on the lines of the idea, story, how they want to do it and how they see it.
Next, Yellow Dogs chief commercial officer Tom Rockhill took a session on the limitless possibilities of cloud rendering. Yellow Dog is a UK-based company that provides a platform to animation and VFX studios to get access to cloud rendering really easily without being limited to one render farm or one cloud renderer.
Following that was a masterclass again by Panteleeva on V-Ray's Phoenix FD 3.4 which is an all-in-one solution for fluid dynamics that help to simulate fire, smoke, liquids, ocean waves, splashes, sprays, mists and more. She elaborated on the quick presets, fast setup, intuitive controls, preview and render interactivity, and fast and flexible controls of the version.
Up next was a guest presentation by Happy Finish CG supervisor Heten Daiya and CGI lead Subak Patwardhan. Happy Finish is a studio that provides services of animation, VFX, CGI, AI, AR, VR and MR. The duo spoke about their work and how V-Ray helps them overcome day-to-day challenges in their workflow. "I have worked with a lot of renderers but V-Ray brings an ease of use and has given us a speed boost," said Daiya.
Talking about V-Ray's progressive modes – resumable renders, denoising, adaptive buckets, aerial perspective, render under mouse, render masks – he said that V-Ray is spearheading a lot of force in renderers.
"Previously, we were using built-in render engines of software and were not aware of anything better or more efficient," shared Patwardhan. "After V-Ray, we have not used anything else. The result being- clients are happy, we are happy."
The last was also a guest presentation by Prime Focus World technical director Hrishikesh Andurlekar and senior creative supervisor Dipan Gajjar, who spoke about their work pipeline and V-Ray utilisation in their animation projects.
"1250 shots, 87 minutes, 315 assets- these are the kinds of deadlines we have. Work is so much that we need render farm or we outsource it. However, we have built a great relationship with the V-Ray team which is a strength," revealed Andurlekar. "When the artist is working on the shot, she/he only needs to know the sequence number and shot number. The rest is taken care of by the pipeline team." Hence, they have extensive use of the V-Ray attributes.
Gajjar showcased stills of some extremely heavy BGs of their upcoming animated co-production with a Mexican studio, explaining the kind of high-end output they got with V-Ray. "The BGs were huge. But V-Ray came as a rescuer," smiled Gajjar.
The four-day event had a count of more than 1000 attendees including students and artists. In terms of feedback, the event received an overwhelmingly positive response like every year as it is more about awareness and enlightening artists. "We make people aware of the software and its new features. That way people learn how to use it more effectively," said ARK Infosolutions country manager (Chaos Group) Percy Daruwalla.
ARK Infosolutions, the nationwide distributor of V-Ray in India attends to customers who use the software as well as those who do not use them, providing software as well as hardware solutions. Their motto is educate and aware as much as they can in this field. And the response stated that, apparently!
Workshop with Chaos Group & SketchUp at Bangalore
ARK Infosolutions in partnership with Chaos Group is hosting V-Ray Days from 6 to 10 November 2017 in Bangalore and Mumbai. V-Ray days provides a platform to learn the recent developments on V-Ray releases and the future of rendering technology and sharing advanced knowledge.
ARK Infosolutions has been associated with Chaos Group for over a decade now. ARK constantly strives to bring exceptional value to the Indian professionals and strengthen relationships with them. Through such events there is constant evolution which attracts countrywide attention by professionals from various industries. The V-Ray Days has become a recognisable brand and a synonym for knowledge in this industry.
"Today V-Ray is already capable of being an integral part of the design process, helping repeat and proof concepts and visualise every stage of developing an idea from an early stage.
And while this is the present of designing across the world, the future holds wider possibilities of integration into the thought and work processes of those who create and evolve our environment," said ARK Infosolutions director and CEO Rishi Khemka.
"Through this partnership, we get everything within reach to help Indian professionals in the process of making better, more effective and flexible future technologies," he further states.
Chaos Group channel marketing expert Alexander Karakshev added, "We see India as an integral part of the V-Ray process and an adopter of the most evolved technologies. We partner with Indian companies to further enhance its exceptional growth and development potential and spread the latest developments of the industry across architecture, design, VFX, animation and games sector."
V-Ray Architecture Day and V-Ray VFX and Animation Day in Bangalore and Mumbai features a 90-minute masterclasses by CG specialist Kalina Panteleeva on V-Ray in Revit, SketchUp, 3ds Max and Maya, a special masterclass on V-Ray RT GPU and Phoenix FD 3.4. Adebeo's Narayan Shevni bringing the latest news on SketchUp, while YellowDog's Tom Rockhil shows the benefits of scaling up rendering in the cloud. The roadshow has special guests from Prime Focus World, DSK International, eClerx, Diadeis and others.
Chaos Group and ARK Infosolutions country manager Percy Daruwalla says,"Logically Chaos Group were looking for such a partner in India – possessing a detailed knowledge of the market and various industries our products apply to, also possessing the right experience and corporate culture to fit their constant drive towards innovation and product excellence."
The team at ARK comes as a natural choice – with the dedicated specialists in sales, marketing and technical support. It has the reputation of a prime M&E, AEC and MFG distributor, helping world-renowned vendors increase their footprint in India's vast market (territorially and as industry size).
"ARK saw in Chaos Group a strong and dynamic industry leader to complement our portfolio excellency. In hindsight, it has been a win-win situation and a mutually enriching relationship all along" added Percy.
Boot Camp, Kathmandu 2017
Congratulation to Team adebeo..!! for achieving Technical Excellence Award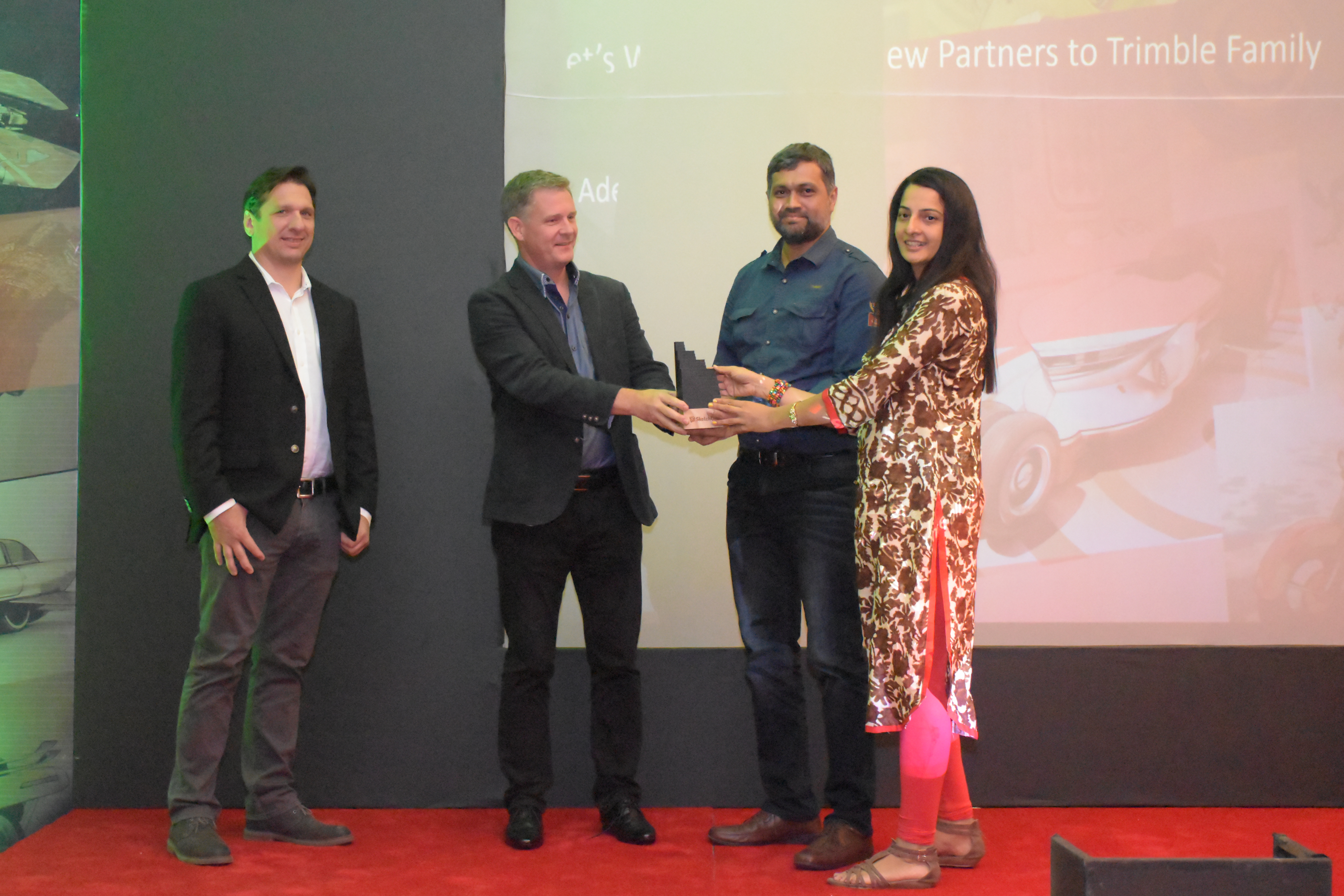 Team participating @ Boot Camp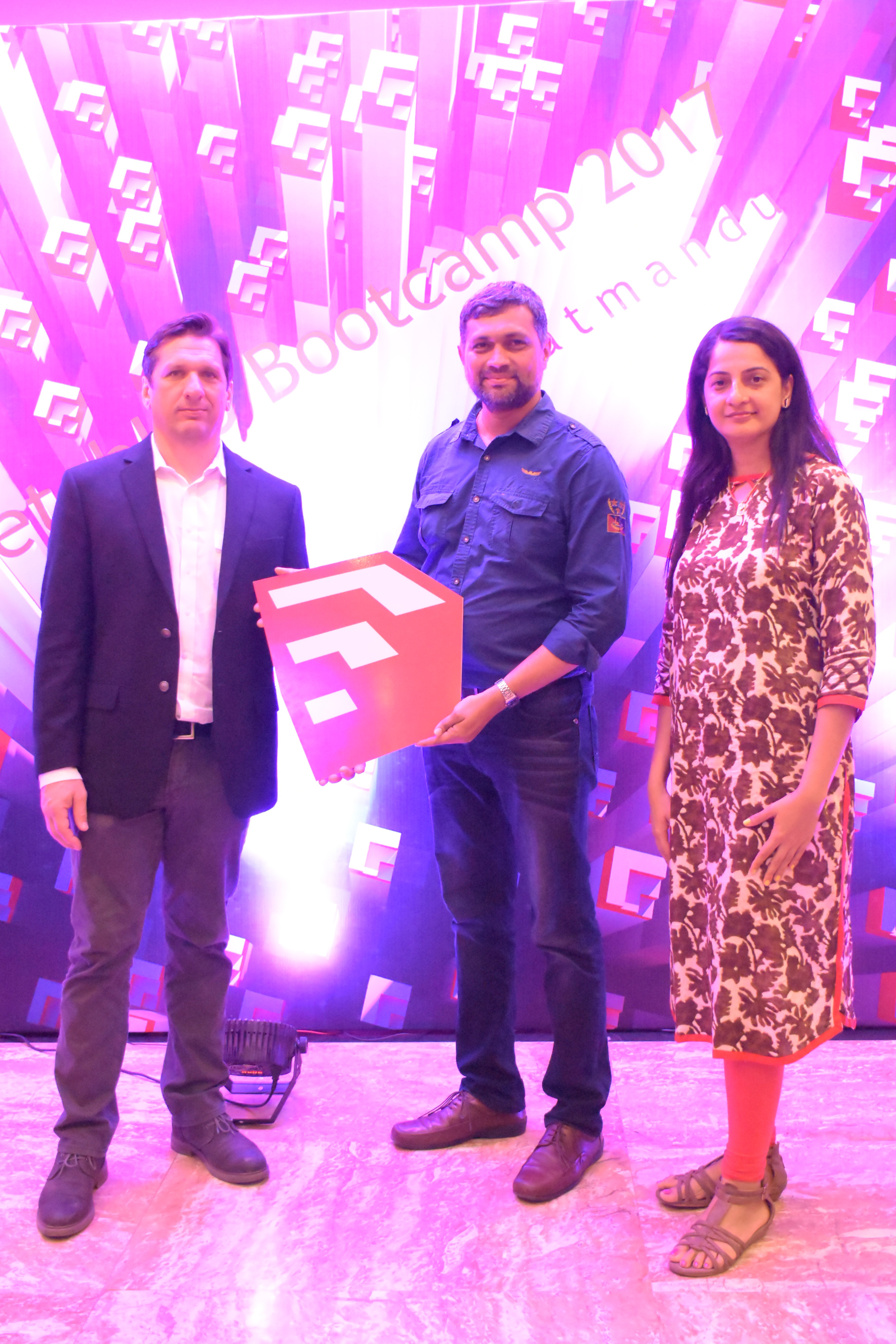 Published on June 5, 2017 by adebeo team.
SKETCHUP BIM – WHAT IS THE BIM?
Source wikipedia
The BIM defines itself as both: A process of integration, production, management and visualisation of data A single model of the building or of a built structure (which can be kept in a digital file, which includes all the technical information necessary for its construction, maintenance, repairs, modifications or expansions and demolition).
The file is not just a catalogue of objects positioned in space; It also includes a description of the relationships between objects and their properties (eg wall junctions, type of opening or crossing of a wall or slab and thermal bridge breaks)  it works by integrating a series of software.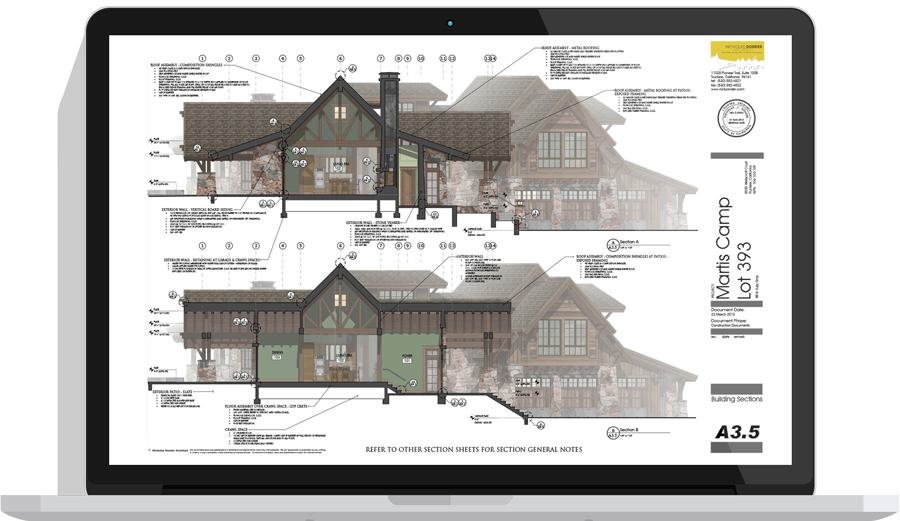 SketchUp defines itself as a 3D modeling platform to accommodate and respond to specific business needs through extensions.
Without extension SketchUp is an tool to generate Idea and presentations. With its extensions, it allows manufacturers to produce their cost estimate, thermal analysis, commercial imaging, CNC machining programs, 3D printing, scanned point cloud models , …. and more
As part of the BIM, SketchUp proposes several methodologies:
Natively without extension, SketchUp is BIM compatible since 2014, in import / export. SketchUp allows

–Import IFC files,

-Read the BIM properties,

-To change the BIM properties,

-To export a "true" IFC containing the template and information.
However, SketchUp without extension does not have by default tool "wall", "window", … so the user will have to enter the data manually, which might be a time taking exercise on a complete model.
However, SketchUp makes it possible to simply create off-the-shelf elements which is much more difficult on these competitors, for example a leaning parapet, tailored railings, non-parallelepiped windows, bevelled walls or billiard cues. All that makes the richness of our architectural heritage 🙂
BIM information can be displayed directly in drawings with a single click.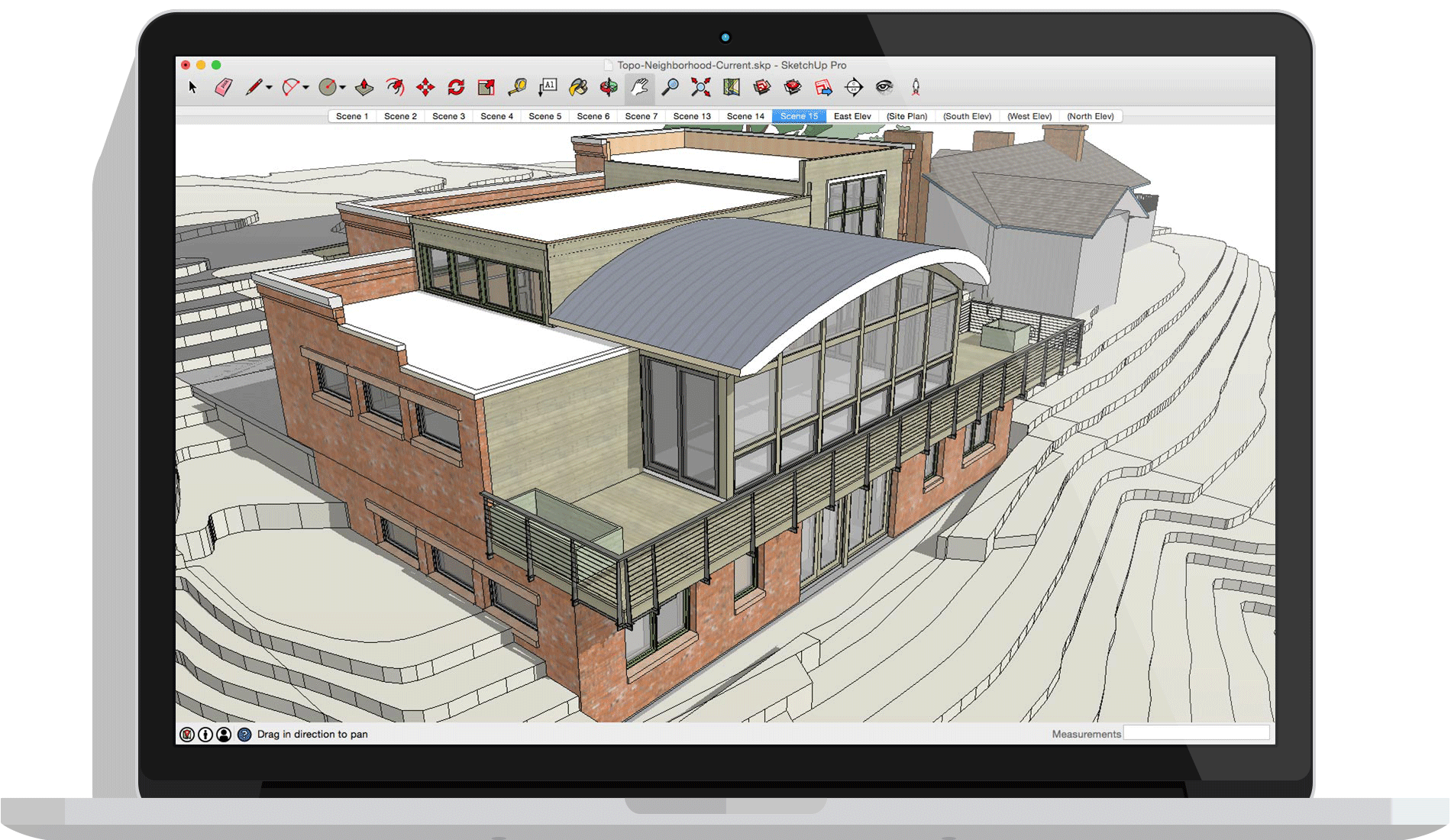 SketchUp without extension thus appears an ideal solution for a supplier/ draftsman wanting to answer only a specific part on a BIM project.
For a home builder, it seems more interesting to use a SketchUp extension. Several extension editors offer solutions for automating BIM input.
"PlusSpec" is a SketchUp extension containing the set of thirty tools and libraries needed by BIM, including:
–Wall ,
           -Window,
           -Slab,
           -Roofing,
           -Encryption tool  & More
The strength of Pluspec is that it keeps the simplicity of SketchUp, increases the productivity of the software. Thus BIM becomes a direct productivity gain rather than a constraint.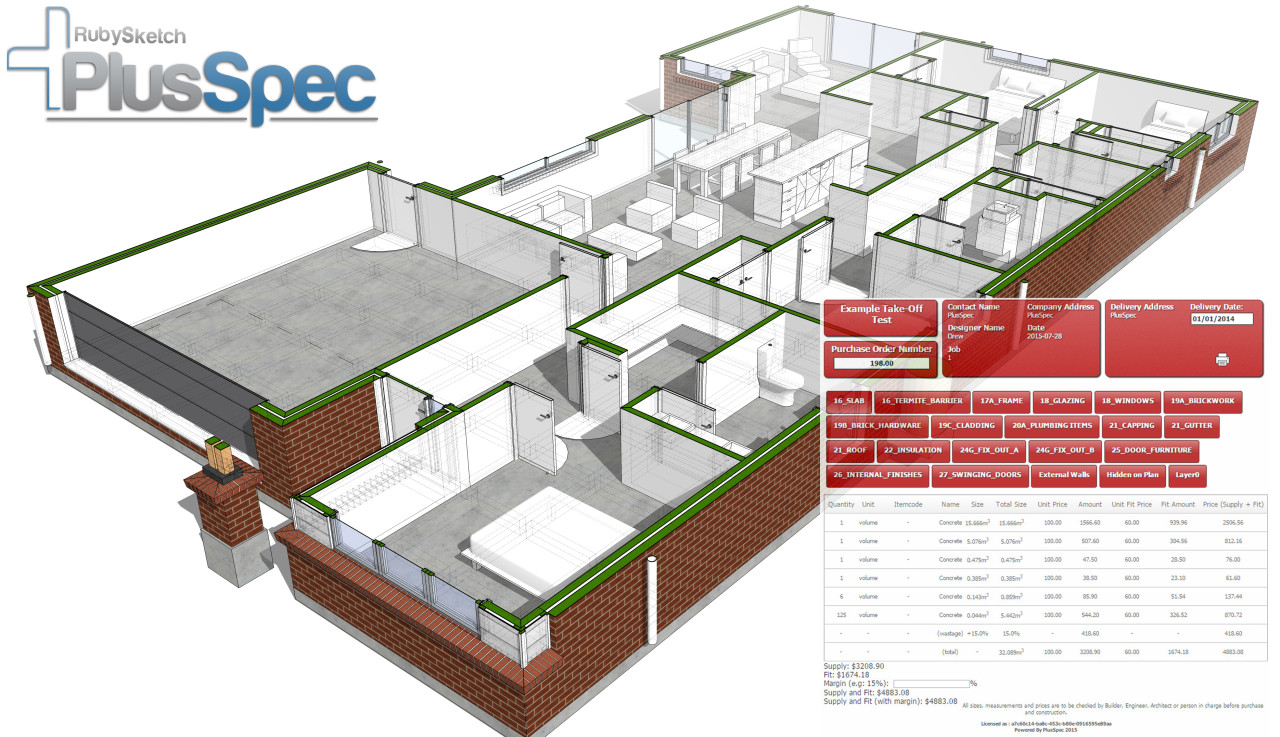 BIMUP is a BIM encryption tool, which allows the import of an IFC file to calculate BIM quantities but also to add the missing BIM information.

SKETCHUPBIM is an extension that makes it possible to quickly produce simple single-family houses. SketchUp offers the BIM tools elementary, wall, window, slab, pillar
SKETCHUP and other BIM software
SketchUp is connected to all BIM model banks.
Thus the SketchUp user can download the IFC models from the manufacturer catalogues. Note that:
BIMOBJECT: leader of BIM library platforms. The imported files are native SketchUp files.

SketchUp 3D Warehouse: SketchUp's 3D model bank is the world's largest database of 3D models. Some objects are BIM
SketchUp is also natively integrated to BIM collaborative platforms such as TRIMBLE Connect or IFC.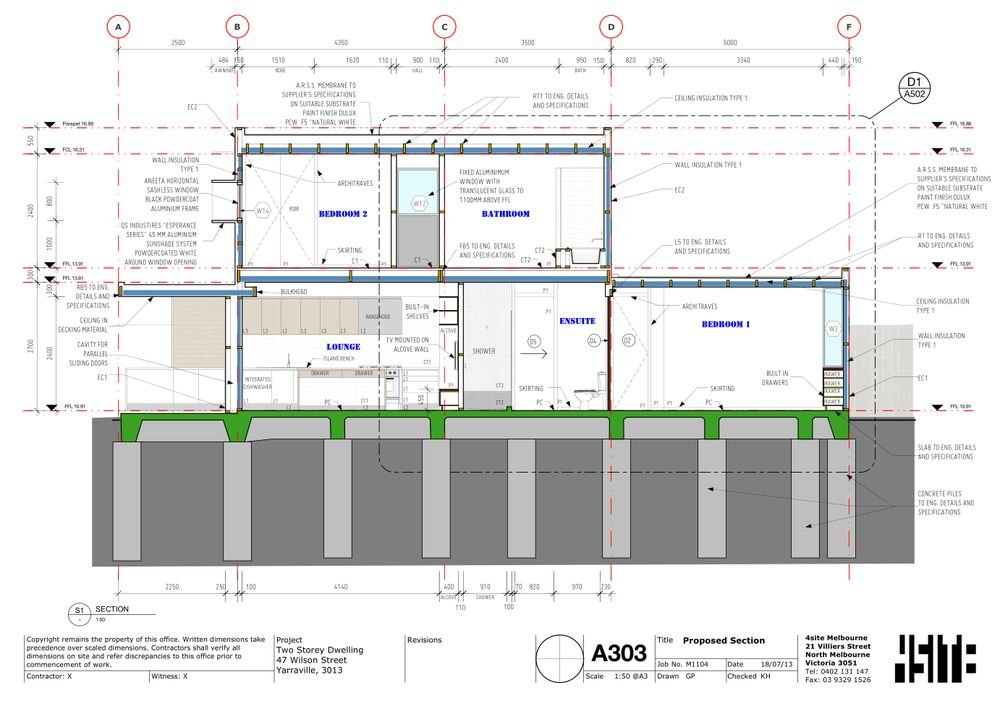 Published on January 20, 2017 
---
---
SketchUp 2017 arrived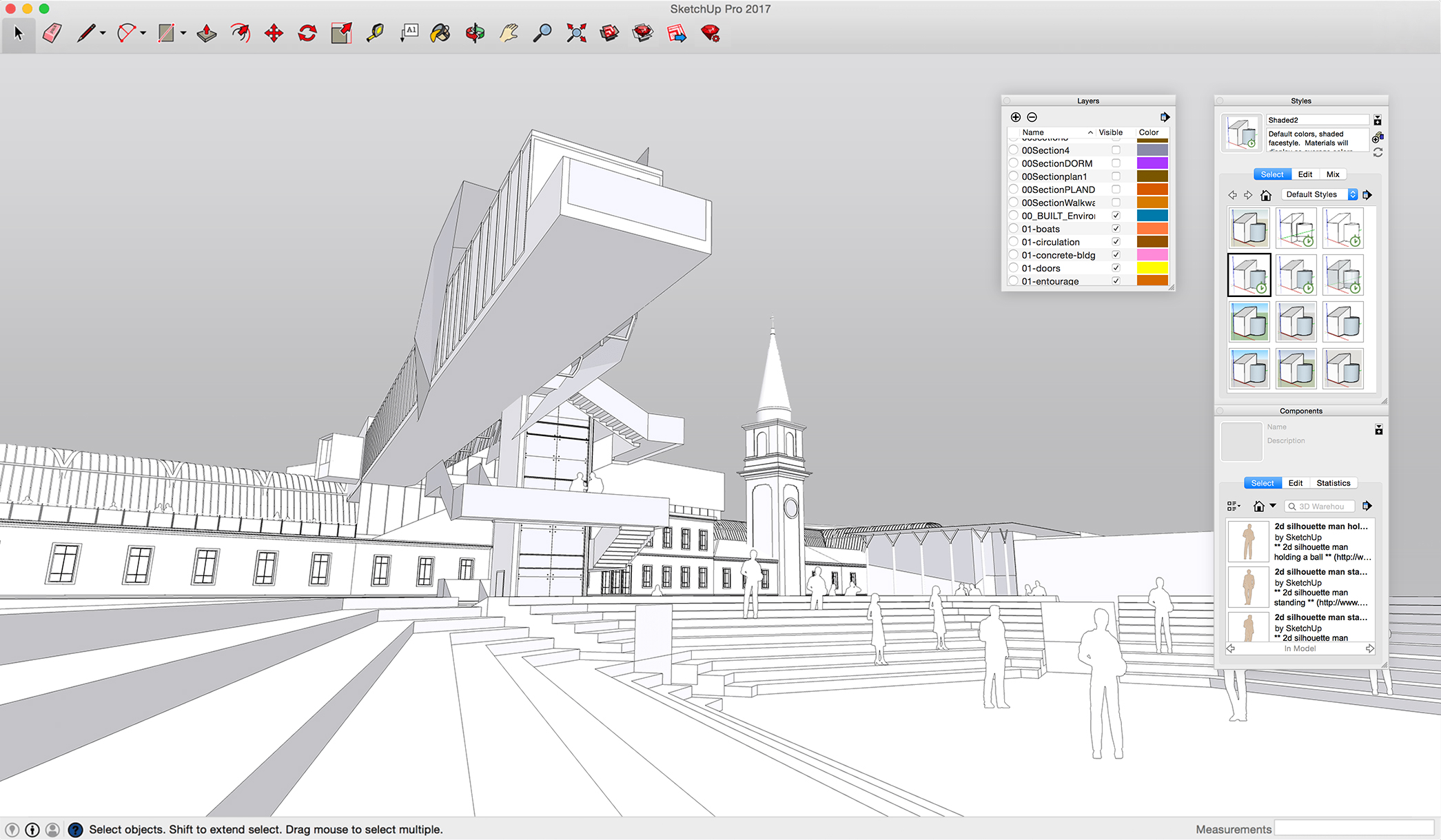 SketchUp Partons, SketchUp users, as you guessed, the new version of SketchUp 2017 is finally released! So we thought of you and we shortlisted the new features of this new version of our favourite 3D modelling software!
If you want to discover for yourself the novelties do not go further, but if you can not wait, here are in a few lines the changes of the new version of SketchUp 2017:
We start with a very big change, SketchUp 2017 will no longer work on small computers. It will require a fairly powerful machine. This change is due to the improvement on the "Graphics Engine". But don't worry, we have a compatibility testing tool for SU 2017.
First change:
The extension manager (represented by the very pretty ruby):
Finally a manager of extensions SketchUp! You will find all your extensions, you can activate them, disable them, install them or uninstall them. You will no longer have to search through the different SketcUp windows.
A change that does good and that will facilitate your use of SketchUp.
Second change:
The offset tool! Finally, when you want to Offset your surfaces, the tool will no longer generate overlapped lines.
More fluidity! I want to say: SketchUp 2017 is smooth
Third change:
New rectangle tool!. Thanks to a new icon you can finally know the length and the width!.We can also lock the axes of our rectangle tool!
Fourth change:
The inference tool has also been improved to solve more conditions, we can finally create inferences perpendicular to a plane, an edge etc.
Various small changes:
Creating a component from Group, we can finally save it and name it! You can also choose the different file locations for the component folders.
Fifth change:
We leave SketchUp to review Layout Changes!
Layout now allows us to create several tables at once and can Import various Spread sheet formats!, It is simple to create, manage tables in Layout !
So much for the main changes, we also leave you to explore the tool more!!!
What are the biggest changes for you? And for those who have SketchUp 2016, the upgrade to SketchUp 2017 is free!
Published on December 8, 2016 by Narayan Shenvi


---
---
Collaborate SketchUp Models
Do you want to publish your SketchUp models on the Browser / Android / iphone / ipad. Share the model link on your social websites, or scan QR.
Go ahead, give a try, https://qrvr.io/
https://youtu.be/fSnmVAYthyo
Also available from Extension warehouse:
https://extensions.sketchup.com/en/content/sketchup-kubitycom-exporter
---
HDRI Haven, the affordable high quality hdri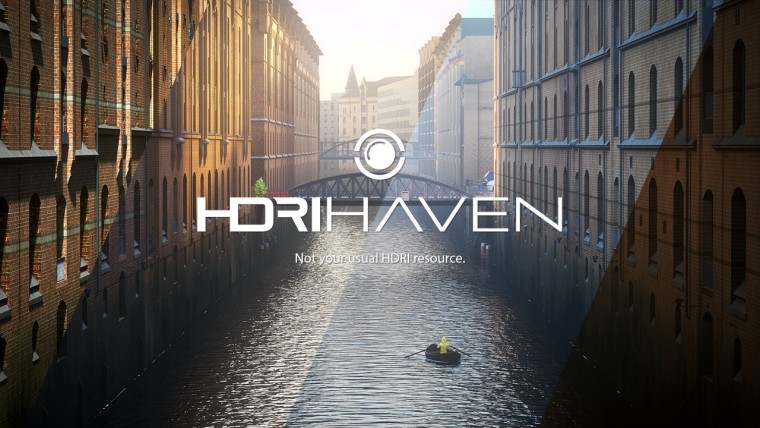 You want to illuminate your images rendered with high quality HDRI ? Tired of hitting images with low resolution , the lights a bit bland with little contrast ? You do not want to spend a fortune to have a sky image ? This website is for you !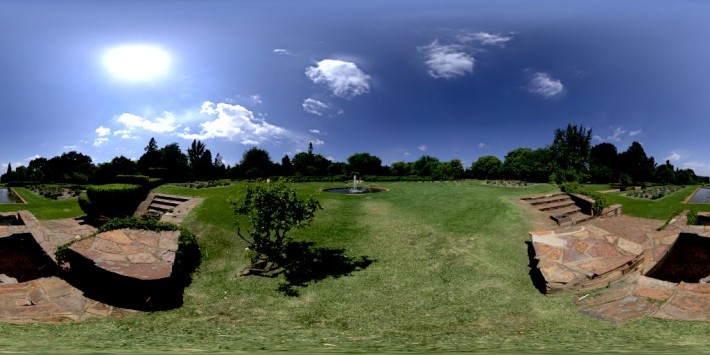 All images can be downloaded for free in low resolution in order to get an idea . There is a pack with 28 frames for a reduced price: https://hdrihaven.com/bundle.php?b=the_complete_collection
and if you want some blue skies there is a pack of 5 images :https://hdrihaven.com/bundle.php?b=skies
Of course you can download the individual images as well !